Colin Kaepernick, the former N.F.L. quarterback who inspired a player protest movement but who has been out of a job for more than a year, has signed a new, multiyear deal with Nike that makes him a face of the 30th anniversary of the sports apparel company's "Just Do It" campaign, Nike confirmed on Monday.
The first advertisement from Nike, one of the league's top partners, debuted Monday afternoon, when Kaepernick tweeted it, assuring that his activism and the protest movement against racism and social injustice he started would continue to loom over one of the country's most powerful sports leagues.
[Related: How Colin Kaepernick controls the N.F.L. protest conversation without saying anything]
Nike will produce new Kaepernick apparel, including a shoe and a T-shirt, and if the merchandise sells well, the value of the deal will rival those of other top N.F.L. players, according to people close to the negotiations who spoke on condition of anonymity because Nike had not formally announced it. Nike will also donate money to Kaepernick's "Know Your Rights" campaign.
The N.F.L. did not immediately respond to requests for comment. The ad and the campaign, coming a few days before the start of the N.F.L. season on Thursday, is likely to annoy the league's top executives and its owners. On Thursday, Kaepernick won a victory in his grievance against the league when an arbitrator let his case, in which he accuses the league of conspiring to keep him off the field because of his activism, advance.
A wave of on-field protests has continued, with varying degrees of intensity, since summer 2016, when Kaepernick began kneeling during the playing of the national anthem.
Now, with just one tweet, the former N.F.L. quarterback and Nike have set the world alight, causing a flurry of stories in major publications, inspiring a top trending hashtag across social media and possibly even contributing to a broader decline in the stock market.
Reaction to Kaepernick's tweet was swift. Almost immediately, "Just Do It" and "Nike" became top trending terms on Twitter in the United States, and by morning the hashtag #NikeBoycott was one of the most used on the social media service. People posted videos and photographs of themselves destroying their Nike apparel in response to the company's decision to work with Kaepernick. Kaepernick has been a Nike endorser since he entered the N.F.L. in 2011.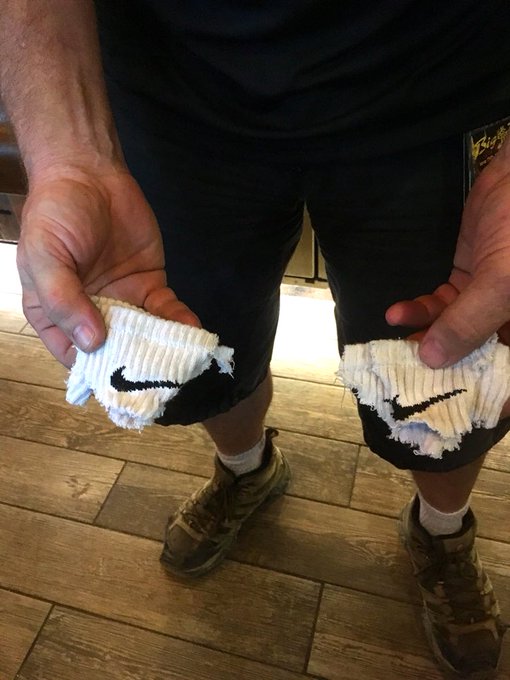 John Rich / 
@johnrich. 
Our Soundman just cut the Nike swoosh off his socks. Former marine. Get ready
@
Nike
multiply that by the millions.
Nike's stock price fell more than two percent in early trading Tuesday. It was the worst performing stock in the Dow Jones industrial average, helping to drag the average to a fall for the first part of the day. While some investors are likely nervous that the company's decision to prominently feature Kaepernick could inspire a boycott, the stock price of main competitor Adidas was also down more than two percent. The broader stock market downturn was being blamed on worries about tense negotiations over Nafta.
The N.F.L. has struggled to contain the on-field protests, which have also included raised fists and other gestures, which league officials have blamed for dragging down the league. Television ratings have declined and certain segments of the fan base have reacted angrily. President Trump has made the N.F.L. a target for not firing players who refuse to stand for the national anthem.
The protest movement Kaepernick started has been interpreted by some as being disrespectful to the American flag and the military. Political conservatives have widely condemned it. Many of those posting on social media Monday and Tuesday about boycotting Nike or throwing out their Nike gear referenced their connection to and support for the military, even though the players who, like Kaepernick, have protested have made it clear they are not anti-military and some veterans have expressed support for their actions.
The Kaepernick deal could be awkward for the league.
In March, Nike and the N.F.L. announced an extension of an apparel deal through 2028. As part of that deal, Nike supplies 32 teams with game-day uniforms and sideline apparel that features the company's swoosh logo. When that deal was announced, Brian Rolapp, the NFL's chief media and business officer, called the company "a longtime and trusted partner" of the league.
Kaepernick and Nike already had an endorsement deal, dating to when he entered the league in 2011, but it was expiring soon and has now been extended.
The new Kaepernick ad features a close-up, black-and-white photograph of his face, with copy that references his kneeling and his belief that his activism is keeping him out of the league.
The ad reads: "Believe in something. Even if it means sacrificing everything."
When asked if Nike had run the campaign by the N.F.L., a spokeswoman, Sandra Carreon-John, responded: "Nike has a longstanding relationship with the N.F.L. and works extensively with the league on all campaigns that use current N.F.L. players and its marks. Colin is not currently employed by an N.F.L. team and has no contractual obligation to the N.F.L."
 The new contract was negotiated by Kaepernick's lawyers, Mark Geragos and Ben Meiselas, and Nike executives.
Even as the N.F.L. season approaches, the Kaepernick story has continued to dominate the N.F.L. narrative. On Friday, Kaepernick received an ovation from the crowd at the United States Open match between Serena Williams and Venus Williams.
Serena Williams, LeBron James, Odell Beckham Jr., Shaquem Griffin and Lacey Baker are also part of the "Just Do It" anniversary campaign.
Nike's decision to make new Kaepernick merchandise and to make him the face of a campaign could, if they are successful for the company, undercut the argument from N.F.L. owners that he is bad for business. Previously, Nike stated that it "supports athletes and their right to freedom of expression on issues that are of great importance to our society," but the company had not used Kaepernick in any recent ad campaigns.
There is reason to believe that Kaepernick, despite not playing, will move merchandise. During the second quarter of 2017, his officially licensed jersey was the 39th-best selling in the league. As an unsigned free agent, he was the only player in the top 50 of those rankings not signed to a team.
With Kaepernick seemingly having little chance of playing in the N.F.L. again, Geragos was eager to try to portray him as something more than a football player.
"I give Nike credit for understanding that he's not just an athlete, he has become an icon," Geragos said.
Source: https://www.nytimes.com/2018/09/03/sports/kaepernick-nike.html?utm_source=newsletter&utm_medium=email&utm_campaign=politics-daily-newsletter&utm_content=20180904&silverid=MzQ1Nzc1NDgzMTQ3S0
###################################
See Also
CREDIT: USA FEED
NEWS
Colin Kaepernick Is Now the Face of Nike's 'Just Do It' 30th Anniversary Campaign
By 
Even though Collin Kaepernick may not be currently signed to an NFL team, he is still a popular athlete who keeps receiving international honors.
Now, Collin Kaepernick will be appearing in Nike ads that say, "Believe in something, even if it means sacrificing everything. #JustDoIt." The sportswear manufacturer will use the campaign for its 30th anniversary.
Kaepernick, 30, first gained national attention in 2016 when he began protesting racial profiling by the police to the people of color.
He protested by sitting during the national anthem in August 2016, later opting to kneel. The move immediately gained momentum when players followed suit and began kneeling during the national anthem leading to criticism from President Donald Trump.
But according to Nike, Collin Kaepernick is "one of the most inspirational athletes of this generation."
Gino Fisanotti, Nike's vice-president of the brand for North America, told ESPN: "He has leveraged the power of sport to help move the world forward."
Collin began kneeling during the national anthem, soon his movement gained momentum with experts saying that it was dividing the country.
Following his protest, Kaepernick has been without a team since he opted out of his contract with the San Francisco 49ers in March 2017.
When Kaepernick began his protest, there were multiple cases of police brutality against people of color and racial inequality.
The protests he started polarized the nation with many sports fans taking sides. In fact, it even inspired President Donald Trump to urge NFL owners to suspend or fire players who demonstrate during the anthem.
Kaepernick has filed a grievance against NFL team owners he claims conspired not to hire him because of his protests. On August 30, it was ruled that the case could go to trial.
Back in April, Collin Kaepernick received Amnesty International's highest honor, thanks to his "inspiring contribution to helping human rights." Even though Colin Kaepernick may not have a job on the football field, much of the world is still cheering him for being protest icon.
Nike's new advertising campaign, celebrating the 30th anniversary of its 'Just Do It' slogan, also includes ads featuring tennis star Serena Williams and Odell Beckh.
Source: http://naturallymoi.com/2018/09/colin-kaepernick-is-now-the-face-of-nikes-just-do-it-30th-anniversary-campaign